State-of-the-art Cosmetic Dermatology Treatments
You deserve to love the way you look! Rejuvenate your skin's health and appearance with the Cosmetic Dermatology services available at Dermatology Group of the Carolinas. As part of our commitment to provide you with comprehensive skin care, we also offer cosmetic procedures and medical-grade products to combat the signs of aging. Schedule a consultation today with one of our Board-Certified cosmetic dermatologists to learn which of our premier cosmetic treatments and products can help you acheive the look you desire.
Our

Board-Certified

Cosmetic Dermatologists
Comprehensive Skin Care & Anti-Aging Solutions
BOTOX® Cosmetic: Combat frown lines & more
Bye bye, wrinkles—hello, BOTOX®! Wrinkles and lines forming on the face is a natural part of aging, formed by years of repeating dynamic facial expressions. BOTOX® softens these facial lines to create a smoother, more youthful appearance. This FDA approved injectable agent is used to treat crow's feet, laugh lines, forehead wrinkles, frown lines and other areas on the face.
Plus, BOTOX® is not just for wrinkles that have already formed—it can be used to prevent fine lines from deepening into more severe wrinkles over time. We offer preventative BOTOX® injections for patients who begin to notice signs of fine lines appearing when their face is at rest. Preventative BOTOX® is ideal for those in their late 20's to early 30's. Schedule a consultation with one of our physicians today to see if you would benefit from BOTOX® treatments.
Platelet-Rich Plasma (PRP) for Facial Rejuvenation and Hair Loss
Dermatology Group of Carolinas utilizes the revolutionary Eclipse PRP system for platelet-rich plasma treatments. Platelet Rich Plasma (PRP) is a high concentration of platelets that is prepared from a small amount of your own blood.
The platelets in PRP are rich in growth factors, which send signals to cells and tells them to function. When used for hair loss, the growth factors in these platelets help to stimulate activity of the hair follicles and promote new hair growth. When used for injection into the face, the growth factors help to stimulate rapid cell replenishment and rejuvenation of healthy cells by promoting collagen and elastin production.
PRP for Facial Rejuvenation and PRP for Hair Loss are simple, in-office procedures that start with drawing a small amount of blood, which is then placed into the Eclipse® centrifuge that spins the blood at a very rapid rate to separate the platelets from the other components of the blood. The resulting product is the platelet-rich plasma, or PRP. Then, depending on the procedure, the PRP is either injected into targeted areas of the face, or into the scalp at the level of your hair follicles.
If you would like to learn more about the Platelet-Rich Plasma Facial Rejuvenation treatment available at Dermatology Group of the Carolinas, schedule a consultation with Dr. Lacey Walls, Dr. Trey Hoover, or Dr. Dhwani Mehta today!
PRP for Facial Rejuvenation: A natural way to create glowing skin & rejuvenate collagen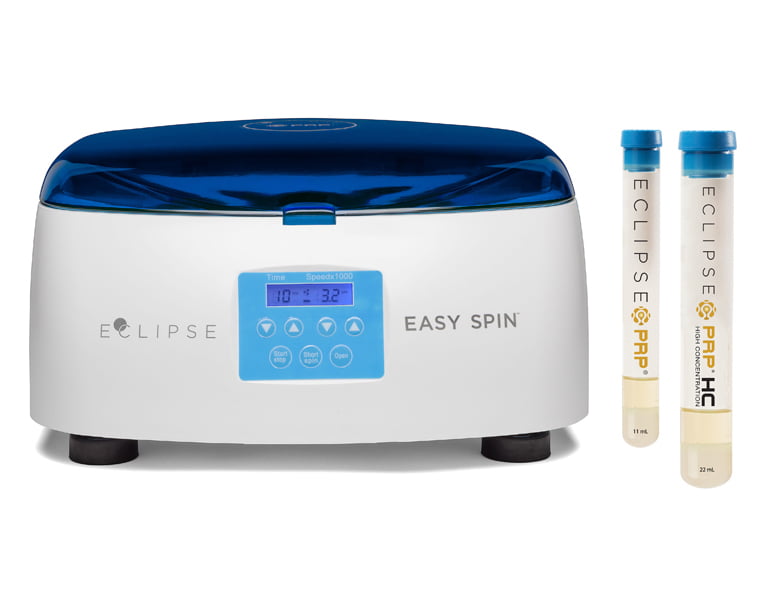 If you want to minimize your fine lines and wrinkles without surgery, then Platelet-Rich Plasma (PRP) Facial Rejuvenation may be for you!
A powerful anti-aging solution, PRP for Facial Rejuvenation can help with the following:
— Stimulate collagen growth
— Tighten lax skin
— Improve skin tone
— Smooth out fine lines and wrinkles
— Under eye circles
PRP for Hair Loss: A non-surgical solution for hair restoration
Many men and women across the world struggle with hair loss. In addition to medical management, we also offer treatment with Platelet-Rich Plasma. PRP is a suitable treatment for certain types of hair loss, such as androgenic alopecia.. In men this could look like male-pattern baldness, and in women this could look like a widening part.
With PRP for Hair Loss, the full process typically requires multiple treatments, each consisting of several injections across the area with thinning hair. To find out if you could be a candidate for this treatment, please schedule a consultation.
Fillers: Plump, sculpt & contour for an enviable look
Whether you're looking to plump lips, fill lines, or add volume to sagging skin, fillers can help you get the look you want! Depending on your desired results, fillers can be used to subtly enhance or to dramatically sculpt facial features like the cheeks and lips.
The Board-Certified cosmetic dermatologists of the Dermatology Group of the Carolinas use a range of hyaluronic acid dermal fillers to help you acheive an enviable appearance. We offer the following filler collections: Juvéderm®, Restylane®, Belotero®, and Radiesse®. To learn more, schedule a consultation with Dr. Lacey Walls, Dr. Trey Hoover, Dr. Dhwani Mehta, or Dr. Natalie Sun today!
Chemical Peels: Reveal glowing, even-toned skin
Find your glow with a skin-boosting chemical peel! Dermatology Group of the Carolinas offers chemical peels of varying strength to address a range of skin issues. We offer peels that can help the following:
— Sun damage
— Uneven skin tone
— Fine lines
— Acne & acne scars
— Dark spots
Sclerotherapy: Effective, non-surgical treatment for Spider Veins & Varicose Veins
Treat your unsightly veins and love your legs again! Dermatology Group of the Carolinas now offers sclerotherapy, a minimally-invasive cosmetic treatment for spider veins and varicose veins. A solution is injected into the affected veins, which then irritates the lining of the blood vessel and causes it to collapse, eventually turning into scar tissue that will fade in time. While not appropriate for patients with severe venous insufficiency, sclerotherapy is perfect for treating the appearance of superficial spider and varicose veins. Schedule a consultation with cosmetic dermatologist Dr. Lacey Walls to see if scelrotherapy is appropriate for you.
Schedule a Consultation
Ready to take advantage of our services? Schedule your consultation today with one of our board-certified cosmetic dermatologists.
At the time of the consult, we will discuss the best treatment regimen for your concerns, benefits and risks of treatment, and pricing. Some cosmetic services require a consult before proceeding, and may not be performed the same day.
Did you know that you could be earning rewards for some of our most popular cosmetic products and procedures?
With Allē (formerly Brilliant Distinctions), you can earn points on purchases of Allergan products including BOTOX®, Juvéderm®, and Latisse®. Certain EltaMD® and skinbetter® products may also qualify for rewards that can be used towards the purchase of BOTOX®, Juvéderm®, and Latisse®.
Click here to sign up for Allē.
ASPIRE Galderma Rewards gives you points for purchases of Restylane® filler treatments, which can be redeemed for discounts on future Restylane® purchases.
Learn more about our Cosmetic Products
Dermatology Group of the Carolinas offers some of your favorite skincare brands, including EltaMD®, Revision®, skinbetter®, and Neocutis®. Click the button below to learn more about our products that are available in-office, and shop for Revision® and skinbetter® online. Your skin will thank you!